InfiRay Outdoor BOLT TL35 V2 384×288 Thermal Scope
$3,299.00
The InfiRay Outdoor BOLT TL35 V2 was designed for optimal use on any platform that demands flexible mounting options and increased eye relief.
Description
The InfiRay Outdoor BOLT TL35 V2 was designed for optimal use on any platform that demands flexible mounting options and increased eye relief. In addition to the features found on the original TL35, the TL35 V2 adds several highly requested features including an AMOLED display, audio recording, and laser rangefinder connectivity via Bluetooth. The T-6061 aluminum housing allows mounting with standard 30 mm rings like a traditional day scope. A 50hz 12 μm detector, HD display, and manual focus lens all team up to create an image that's anything but traditional. The TL35 V2 features a dual battery design for 10+ hours of run time and 32GB of internal memory to keep your optic going all night. The BOLT Series was designed from the ground up for optimal use on bolt action rifles and other platforms that demand flexible mounting options with increased eye relief. The traditional style of a BOLT housing allows for mounting with standard 30mm rings like a typical day scope.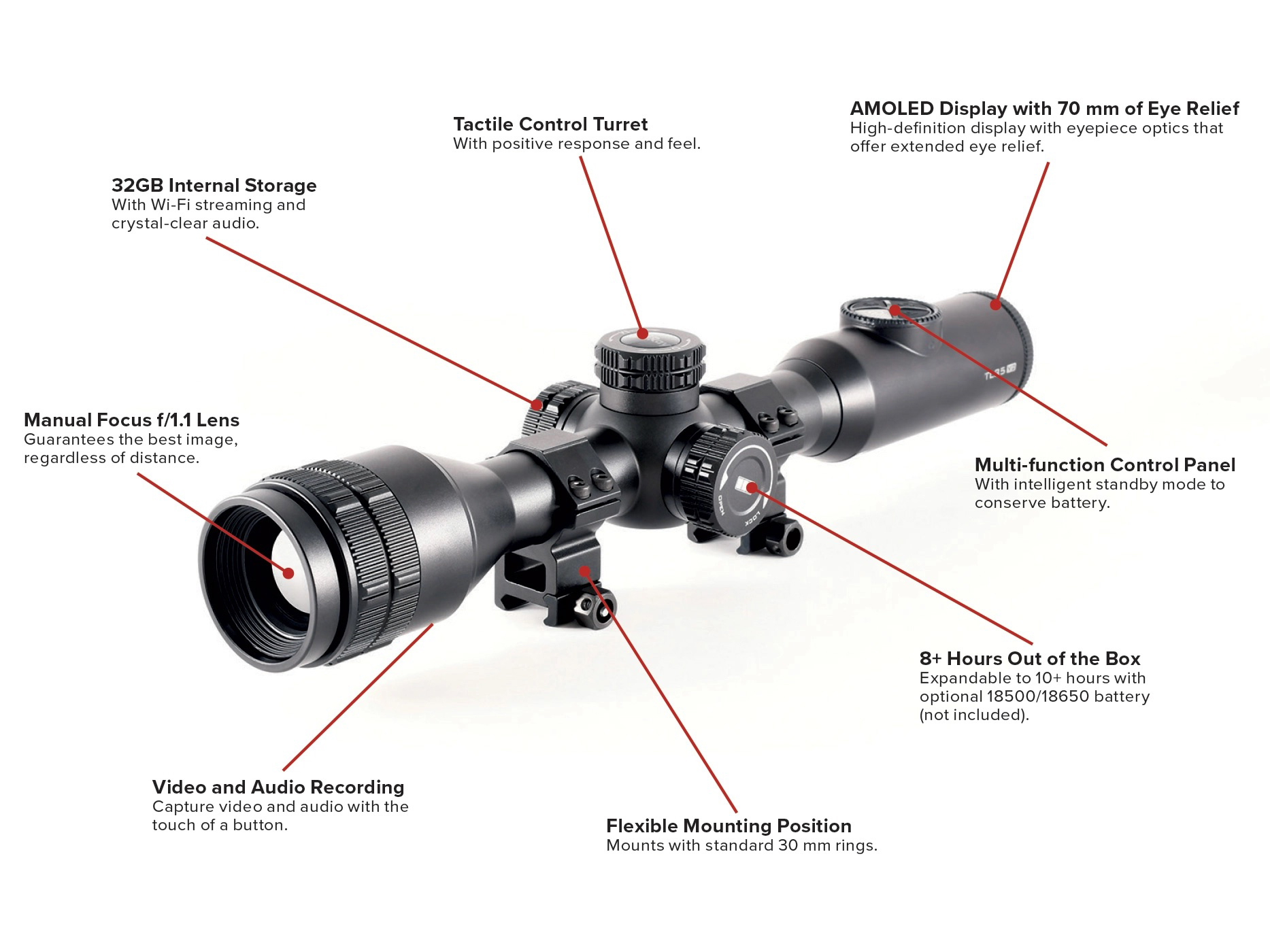 Inside of a BOLT TL35, the image from an InfiRay 50Hz 12 micron Micro II core is displayed on a crystal clear HD display. These components and InfiRay's proprietary MATRIX III algorithm create an image technically and visually superior to optics with similar specifications. Dual internal 18650 batteries and an optional auxiliary battery provide 10+ hours of run time. The BOLT also comes standard with 16 Gb of internal memory for hours of video capture.
OLD MEETS NEW
The BOLT features InfiRay Outdoor's innovative new way to control a thermal optic. Unlike other thermal optics with a turret style controller on one side, the BOLT has a large and easy to find metal turret controller on top. This makes operation easier in the dark and completely ambidextrous. The turret controller also has positive and tactile clicks when twisting, and a positive click when pressing in unlike any other thermal scope on the market. Both the aesthetics and the function of the BOLT demonstrate InfiRay Outdoor's mission to combined the traditional style and feel of a day optic and the advanced technology of thermal imaging.
HIGH PERFORMANCE
The TL35 V2 features the industry leading InfiRay 12 micron Micro II core with proprietary MATRIX III image processing, but that is just where the high performance begins. Along with the best sensor and software the TL35 V2 uses a set of optics specifically designed for a 12 micron sensor and a low power consumption AMOLED HD display. Dual internal batteries power the BOLT for an incredible 10+ hours, and if you need more runtime the BOLT has an additional battery well for an off-the-shelf 18500 or 18650 battery. The BOLT also supports charging the internal batteries through a USB-C connector while in operation so you are never stuck with a dead battery.
ADVANCED TECHNOLOGY
The BOLT comes with 16gb of memory for storing 20,000 images or 24 hours of video. Captured videos with audio and images can be easily transferred to your smartphone at lightning speed via app. The WiFi mode also allows for up to 4 connections to the BOLT simultaneously allowing multiple viewers to see the BOLT's thermal image in real time. Audio can also be recorded in the app via your smartphone microphone while connected to the app.
Optics
| | |
| --- | --- |
| Objective Lens Material | Germanium |
| Objective Focal Length | 35mm |
| Objective F# | 1.1 |
| Optical Magnification | 3X |
| Detection Range | 1750 Yards |
| Display Type | AMOLED |
| Display Resolution | 1024×768 |
| Focusing Mechanism | Manual Focus |
| Eye Relief | 70mm |
| Digital Magnification | 4X, stepped |
| Diopter Range | -4 – +4 |
| Vertical Angular Field of View | 5.7° |
| Horizontal Angular Field of View | 7.5° |
| Objective Diameter | 35mm |
Features & Performance
| | |
| --- | --- |
| Rangefinder | Bluetooth ILR-1200-1 LRF (Optional) |
| Onboard Recording | Yes |
| Warranty | 5 Years |
| Picture-in-Picture | Yes |
| Reticle | 6 (1 Dynamic, 5 Static) |
| Image Capture | Yes |
| Mobile App | Yes |
| Wifi | Yes |
| Video Output | Analog RS-170/NTSC |
| Connector Output | Power/Data |
| Connector Type | USB-C |
| Color Palettes | White Hot, Black Hot, Red Hot, Color, Highlight |
| User-Updatable Firmware | Yes |
| One-Shot Zero | Yes |
| Stand-by Mode | Yes |
| Storage Capacity | 32GB |
| Power Source | Dual Power Supply |
| Run Time | 8+ |
| External Power Source | USB-C or 18500/18650 |
| Startup Time | Under 10 Seconds |
| Country of Manufacture | China |
Environmental Specifications
| | |
| --- | --- |
| Recoil Rating | 1000 g/s² (300 Win./7mm Mag) |
| Ingress Protection | IP67 |
| Operating Temperature Range | -4°F~122°F |
Physical
| | |
| --- | --- |
| Length | 15.74 |
| Height | 2.55 |
| Width | 3.34 |
| Mounting Interface | 30MM Rings (included) |
| Housing Material | T-6061 Aluminum |
| Weight | 32.87 |
Sensor Specifications
| | |
| --- | --- |
| Sensor Resolution | 384×288 |
| Sensor Pixel Size | 12μm |
| Sensor Frame Rate | 12μm |
| Sensor Type | InfiRay MICRO II |
| Thermal Sensitivity | <50mk |
| Non-Uniformity Correction (NUC) | Manual, Automatic, Semi-Automatic |
| Spectral Response | 8-12 Microns |
| Device Technology | Thermal Imaging |